Alexis Badiyi
in conversation with Kerrin Smith
////////

Alexis Badiyi is the ultimate example of being Cool And Thoughtful. As successful freelance stylist, integrity is the core value that underpins all her work, and she practices thinking from abundance and play rather than fear & scarcity.

Alexis' work ranges from floral design to styling to photography and radiates an authenticity that is refreshing - her creative perspective has roots that go beyond visual appetite, as her aesthetic is informed by the heritage, people, stories, wisdom, and experiences that have led her to such florishing.

We sat down in her beautiful Clinton Hill home (with her two cats) to talk about her entrepreneurial leap, how the power to create comes from a deep belief in oneself, and magic.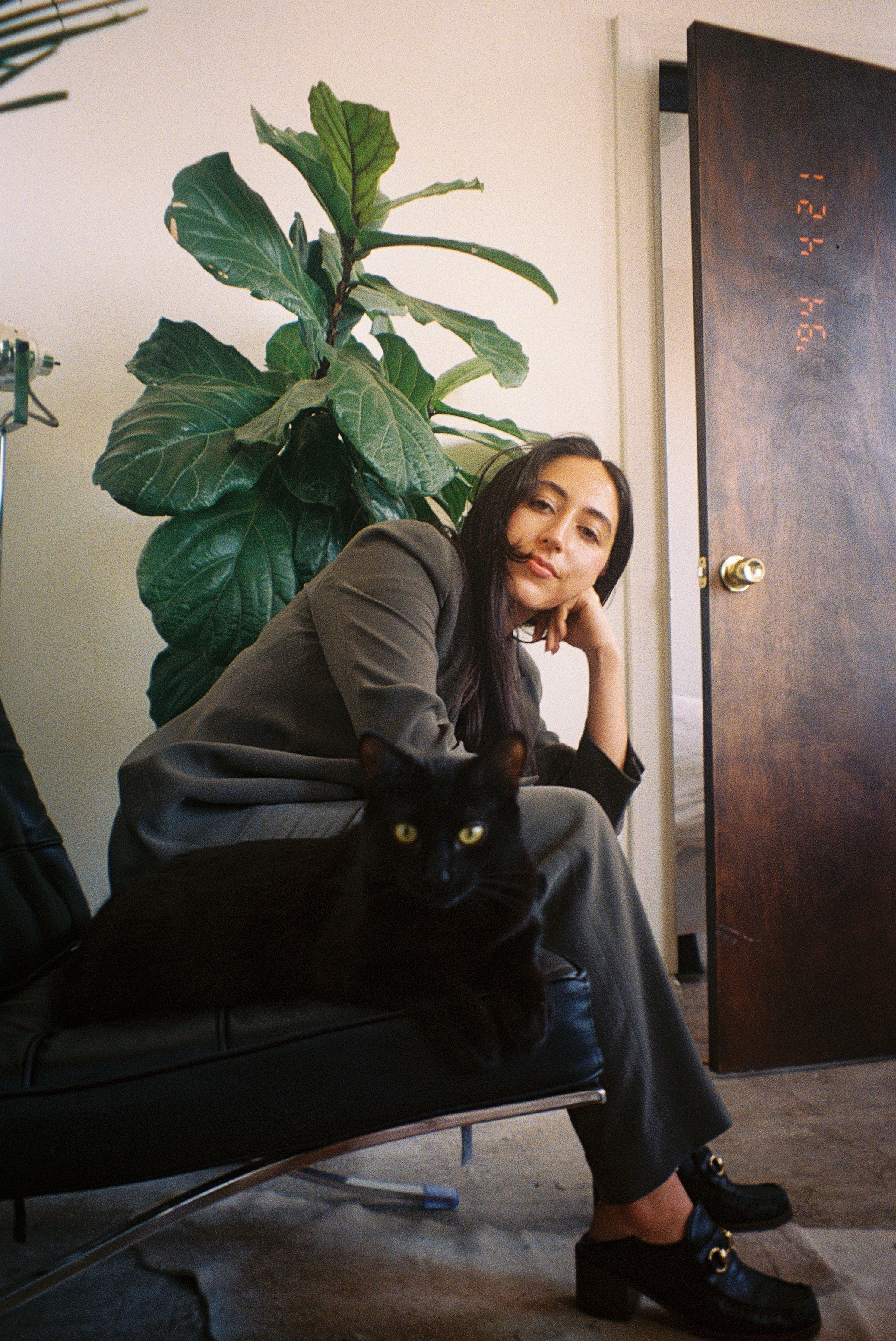 K: What do you burn for? What are your dreams?

My actual dreams are vivid and at times, lucid. I see bright colors, people I know or have yet to meet, solutions to problems I've been mulling over, creative inspiration for upcoming projects. I'd like to make a ritual of writing my dreams down upon waking. I burn for passion, creativity, and connection.

K: Who or what moves or inspires you?

Having the opportunity to create partnerships and collaborations with like minded creatives, painting, using my Yashica (it feels like Christmas morning each time I get that film developed), spending time with my friends and family (which I am blessed to do often), developing my craft, spending time in nature, traveling, expanding my eye through art, film and architecture.

K: How do you understand "style"?

Style is so much more than clothing to me, it is an expression of who someone is, how they think, how they feel, the energy they exude. Style can shift someone's mood and perception, it can create connection.
K: How would you describe your relationship to clothes?
My relationship to clothes is an extension of myself, my emotions, feelings. It is a visceral experience for me, it's not just putting garments on my body. It is an ability to transport or transform myself and others through the way we adorn ourselves. Clothing, from a young age, had a playful ease for me. I remember styling my friends and family for events, school dances and parties. Seeing how one ensemble could change a loved one's night, how they felt about themselves, the energy they exuded - that always stayed with me.

K: Your own journey has been an entrepreneurial one - what have been some of the most important inflection points? Is there a piece of advice you'd give to somebody looking to pursue a similar path?

I feel very lucky that I was born into an entrepreneurial family. They instilled in me the strength to identify, develop, and listen to the creative and strong voice inside of me and to follow it. My family always said, find something you love and the money will come. In my entrepreneurial heritage I've had the honor to grow up with my father, grandmother, mother, and sisters, who are all creatives that have developed their unique gifts and shared them with the world. I feel so inspired by them daily.

After college I felt I should take a corporate position - "the safe choice." My mom would send me articles about entrepreneurs who quit their jobs to start their dream careers. Even my grandma would remind me that "working for yourself is always the most rewarding because I would be free".

I remember realizing at a certain point that I was doing a job for the money rather than for my future, my ultimate career, my happiness. I started to feel like I was losing that connection with myself. I feel lucky to have had such a supportive family, partner and a little bit of savings to leave and pick up where I left off on my entrepreneurial journey. My biggest advice is to stay connected with your voice and soul, and you'll know when it's time. I consider myself to have a practical planner side, so having some savings plus downsizing in your overhead/living expenses for a little bit is a big help when making the leap to freelance.

K: What role do aesthetics play for you? I'm such a fangirl of how your curate things, would love to just hear you a bit on loudspeaker about your own aesthetics...

It's a universal language to communicate with. When I see someone or enter a place that has an aligned aesthetic I feel instantly at home and familiar; in contrast, I love to expand my eye and learn something new when presented with alternate aesthetics.

I get so much inspiration from architecture and interiors. I feel really lucky to have grown up with the family I did and around people who had incredible taste. I traveled in spaces that are similar to how I curate now. My mom also did interior staging for a large period of time. When we went on family vacations there was always an antiquing or shopping moment, whether we were in flea markets in Paris or antique stores in Maine, there would usually be something like we must figure out how to get the credenza back to LA! My dad would usually would roll is eyes over the fact that we were taking this hutch that we found in France back to the Hollywood Hills, but then I've also seen him ride on the back of our car with a beautiful bench we found on the side of the road in the Hamptons all the way over the North Fork - he would get down on it too, he always loved a roadside deal.

Finding ways to express my aesthetic, whether through clothing, art, interiors, photography, and floral arranging, is something I've done since I was young. I was actually going to go more into interiors, but then made a split decision to go into fashion when I was going to school.

I feel a strong emotional connection with it, I speak to the space. My grandma will do this thing where she will find a cup, painting, or vase, put it on a specific shelf, and then she'll really mull with where she put that for a couple days. She'll dream about it, and in the middle of the night she'll wake up and say, "Ah! This is where this will live." I am the same way. I will fall asleep chewing on the thought of my dining room, shoots, film, outfits - I'll wake up and know I've got it - the rug has to flip! The shelf has to go here! This will be the perfect location and model! Or I've got just the brand to collab on this with! And it all clicks.

With clothes, I find a similar process. So much of what I put together starts with the model, person, client I am dressing. The clothing must vibe with them. Fit, drape, color, and shape are essential. To me, it's important for the look to highlight and bring out what makes that person uniquely beautiful. From there I love to create a series of looks, a wardrobe, that embodies and empowers them. I want people to feel confident in their individuality - what makes you different makes you special and beautiful. It took me a long time to realize that, I wanted to look like everyone else when I was young- I remember feeling so embarrassed about my eyebrows, skintone, heritage. Now I find those things to be my most beautiful attributes.



K: To dive into your own practices of mindfulness or development - what are your touchstones that help you stay grounded or present?

Staying grounded and present are two things that keep one sane in this bustling city. Exercise, sleep and eating clean are the minimum three things I do to stay grounded and present. They directly impact the way I think, the way I feel. In addition to this, acupuncture and meditation are rituals that make a huge difference for me in staying centered and feeling connected to myself. Throughout all of this though remembering to breathe - it sounds simple, but it is one of the most helpful things and first thing I check in with when something feels off. I put one hand to my chest, close my eyes and take a few deep breaths, noticing any sounds, smells, sensations - this brings me back right away.
K: We were talking earlier about your idea of the entrepreneurial "trifecta" of: 1) critical mass of savings 2) proof of concept 3) unshakable personal conviction - the three things that, when taken together at the right time, can be the marker that it's time to take the leap. Would love to hear a little bit more about this construct for you.
In order to make that entrepreneurial leap, I had to really visualize what I was doing, and I needed to have a strong plan of how I was going to start. Practically, it's about knowing that you are being responsible to give yourself the space to go for it. One way to do this is:

1) having a very clear vision of what you are creating
2) downsizing on your overhead expenses where you can
3) checking in with your soul and gut.

I'd recommend downsizing on overhead where you can before any sort of job change - even just in the beginning (of your entrepreneurial journey) because you want to have that sense of abundance going into your freelance leap so that opportunities will flow freely to and from you - so that you are not feeling constrained and afraid (even though it's easy to feel afraid)! There are times when I've leaped before having the right creative (proof of concept) and financial set up, and that leap has been a lot harder on me. I don't regret it, but when you leap and your soul and gut are supported by your creativity and finances, that's when it can really click. When you're not constrained or coming from fear of scarcity, it's a lot easier to hear your soul and your gut.

K: What's a favorite learning you've had recently?

I've learned this long ago, but recently came back to it:


"The world is just an illusion of the images you hold in your head. Hold on to the images of your dreams, and the illusion of your dreams becomes your reality.

Although it only came into my life in my mid-20s, I feel this quote has been we me since I was a kid. I feel like this, along with my parents saying "do what you love and the money will come," is very relevant to how I was raised. Both my parents were so adamant about me learning to manifest things at such a young age. I thought I was a witch growing up. There is magic still inside of all of us, but when I was young, I really felt like I was magic. I was able to create things, and my parents encouraged that.

K: The most Cool And Thoughtful girls are the ones who believe in magic - who believe, with conviction and humility, that they have the power to create amazing things. You're not the only one, and that's a real thing!

Even now - my family and I will play with exercising our magic on big things and little things. It's important never to forget it. It helps, it grows, and with this quote, along with our dreams, it's so important to visualize things. I remember the first time I styled my own shoot professionally - I was so nervous! I had done this many times before on a smaller scale, I knew I could do it. To stop sweating I had to sit down, close my eyes, and visualize myself doing it from beginning to end: pinning the clothing, seeing the camera flash, what I was going to wear, who was going to be there, packing my kit, seeing myself on set, seeing myself putting the looks together. And once I remembered that I had already lived it, I was so confident. There was no more "figuring it out."


K: I keep hearing a core value around creativity, expressed in all its forms: creativity as the power to manifest something, as the power to create something aesthetically...I just hear this nexus in you. The question that's forming in my head is, what are your core values? There's stuff that's anchoring what you're saying, I can hear it, but I'm curious how you'd language it.
It's all wound together through integrity - nothing works without that. Being your word and honoring your word is how you create the feeling of self worth and power and how other people see you. It creates trust, and so much of what I do is personal relationships so you need to be your word and show up. Another thing that comes to mind that I see as a through-line with myself and other people and situations is the world of empowerment. I feel so inspired by the people in my life, I find myself to be quite an empowering cheerleader for my loved ones. I want those in my life to feel cherished and adored. I feel very lucky to experience all the love that I get to give and receive in this life. That sense of love and playfulness - everything feels possible in that.

K: What does being Cool And Thoughtful mean to you?

An opportunity to be kind and generous and to create connections with others to make a greater difference.
K: What's something you are practicing or improving on right now?
Limiting my time on my phone and social media. I spend so much time on it for work but will still find myself comparing and scrolling, and those are two things I'd like to cut out.
K: What difference do you think being Cool And Thoughtful could make in the spaces (environments, industry, communities etc) you travel in?

There are areas of the fashion industry that are still quite antiquated. I believe Cool And Thoughtful could shift the thinking so that there are an abundant amount of opportunities for all, developing more creative safe spaces to work, learn and develop in, having more clear transparent communication inside the film and fashion world. In addition, these industries are some of the most wasteful, I believe Cool And Thoughtful could make a difference by generating creative solutions in this area as well.

K: Because Cool And Thoughtful is not about doing, it's about being. There is so much that's prescriptive about doing, or how you should act, but you have to start with the being of it all.

There is this unspoken fear and lack of transparent communication inside some of the creative industries. When there's a climate like this, people are less willing to collaborate, to create creative solutions, to think outside the box, to share themselves, to really share themselves. People feel like they can't be fully expressed at their job. The values of Cool And Thoughtful could make a huge difference around this.

K: If you could wave a magic wand and generate a productive solution to something, what would it be?

To have thorough and thoughtful women's healthcare be abundantly and readily available to all females in a safe conscious space.
---
© Cool And Thoughtful™ 2020